Best Eye Makeup Colors for Blue Eyes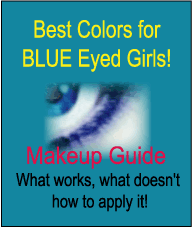 Blue eyes look gorgeous in shades of violet/purple/plum/burgundy, camel, taupe and grey-based browns, rosey and peachy pinks (not too red), bronze and grey, silver, etc.
Use these shades as a monochromatic color scheme for a subtle /natural look; camel and taupe browns and orange are complementary colors (or opposites on the color wheel) and will create more impact, making blue eyes look brighter.
Of course, you probably don't want to wear orange, but a brown with a yellow/orange undertone will help your eyes stand out more. Bronze usually has a yellow undertone and copper, which has an orange undertone, are especially pretty on blue eyes, too.
Any color with an red/orange undertone (plum, terracotta, copper, etc.) will emphasize blue eyes. The opposite of blue on the color wheel is orange. This can be a copper, rust/terracotta/bronze or peach. Do not, however, use red on the eyes. It makes any eye look tired and bloodshot.
For a casual, well-dressed eye makeup look that is great for work, or easygoing look, apply a light coat of soft camel, taupe or copper.
Accent with a mid-brown or mid-grey neutral shadow along your contour, and blend out to nothing up to your brow bone. Always apply foundation over your entire eye area , and set with powder before you apply your eyemakeup, for the smoothest eye shadow application; and apply a little concealer on any under eye bags and into the inner corner of your eyes.

To finish this brush on two coats of black, grey, plum or black/brown mascara on top - focusing on the lashes on the outer corner, and a dab of mascara into the base of your lashes on the bottom. Plum mascara is best suited for evening.
If you want something more dramatic, apply a sheer plum eye shadow all over your mobile lid, blend into a charcoal eye shadow into the outer corner of your mobile lid to just below your crease.

Sweep a soft line of the plum or charcoal lightly under your bottom lid for a smoky look; or if you are more into the cat's eye look, then dampen a very fine eyeliner brush, apply a charcoal or black liquid liner along your entire top lid, right in close to your lashes - taper the line (start finely on the inner corner and make thicker as you go along - flick out at the end). Finish with two coats of black mascara on top (focusing on the outer corner) and a dab on the base of your bottom lashes.
Try: Plum, bronze and mocha. Purple shades with a reddish undertone contrast your color, making eyes look dramatic; warmer, peachy shades of mocha complement blue, giving a natural effect. Wear mocha for day, plum or burgundy for night, and top both with black mascara.

NOTE: Do not choose purple colors with a blue undertone (violet, lavender, royal, etc.) These are too close to blue and will tend to blend with eyes instead of contrast and complement eye color.
Bring out blue eyes with a contrast.
Lining them in charcoal or plum (not too red as it will make you seem tired) is beautiful on blue eyes. You can also use a camel or mocha brown for a more casual daytime look. Smokey black should be reserved for night or the darkest skintones.
Best colors for blue eyes:

Night:
Rich plum, deep charcoal, silver/platinum, bronze and peachy/gold shadows

Day: Sheer burgundy, grey, peach or camel shadows / Charcoal, plum or camel/mocha brown liner

Black, charcoal or plum mascara are great colors for blue-eyed girls.
Complementary colors for blue eyes:
Blush: Pink, Rose, Mauve (any color with pink/blue undertones). Stay away from yellowish-coral, brown, peach, apricot.
Lipcolors: Same as blush colors. Stay away from anything that looks like it has yellow undertones. Stay with clear colors: pinks, red (blue reds are best for you), mauve, rose, etc. Do not use corals, apricots, browns or orangey colors.