Beauty Tip for Glowing Skin

Here's a tip from a top celeb facialist and it works!

For baby smooth, glowing skin apply a light to medium weight face cream all over your face. Then mix in your hand equal parts water-based cleanser and a facial scrub. Spread this mixture over the face cream. Massage it in with some water and then rinse well. Voila! A beautiful mini-facial technique for gorgeous skin. (Note: Use a gel or foamy/soapy facial cleanser for best results).

Best Colors for Green Eyes
Best Colors for Blue Eyes

Now you can always be sure what looks best on you!

Get our two mini guides for just one price!

Ebooks for just $9.99 / SPECIAL ... Now just $4.99!
These guides are included free with Makeup Artist Business Guides purchase.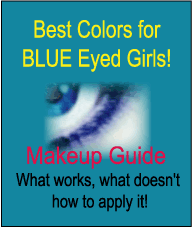 SPECIAL OFFER ... Best Colors for Green Eyes & Best Colors for Blue Eyes
$4.99
Ebook / Will be emailed to your email address given during order process.
Beauty Tip
Mix self tanning cream with a mositurizing sunscreen for a quick triple threat treatment (tanner, moisture and sunscreen). You ARE wearing sunscreen everyday aren't you?