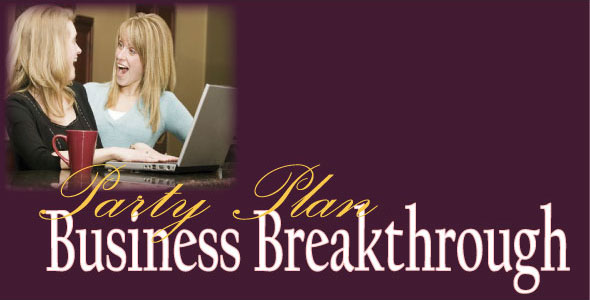 .
Special discount duo BUNDLE offer for ACHIEVERS only!
If you're looking for unique, fun and innovative ways to:
-Get leads and build your list
-Book parties and get a fully-booked calendar
-Market your business and stand out from your competition
-Have more fun and build profits
-Double your income in just 30 days
-Recruit a big, productive team faster
You'll love both of these programs! They include both audio and digital downloads to help you learn how to boost your business on your own schedule!
Learn about them by visiting these links
**USE THIS PAGE ONLY FOR DISCOUNT LINKS**
Party Plan Business Breakthrough +
Party Plan Power Booster ... $59.99 ($129.99 value / SAVE $70.00)


**As a customer of the Party Plan Business Breakthrough, you will receive the exclusive opportunity to become a Party Plan Star Success Coach Trainer at the end of the program.**


| | |
| --- | --- |
| | Party Plan Business Breakthrough Special Program Bundle ... $59.99 |
NOTES:
The Party Plan Profit Booster is an audio/digital download series. You will receive access to the entire series upon payment. A link will be sent to your email.
The Party Plan Business Breakthrough is a 6-part training course available in audio/digital workbook download format.
You will receive access to all current links and join the program.


**All audios, downloads and posts are copyrighted materials and remain the property of Moehr and Associates and may not be copied or distributed in any way.**
2CheckOut.com Inc. (Ohio, USA) is an authorized retailer for goods and services provided by Moehr And Associates, Inc..